Platform lifts are mechanical lifting devices that utilize a series of telescopically extending arms that are hydraulically powered to raise a platform to great heights. A platform lift consists of a stabilizing base from which the arms of the lift originate. Read More…
Platform Lifts
Platform lifts are lift systems that are used to raise and lower platforms. Throughout industry, commerce and even in consumer products contexts, platform lifts are used to serve a wide variety of purposes.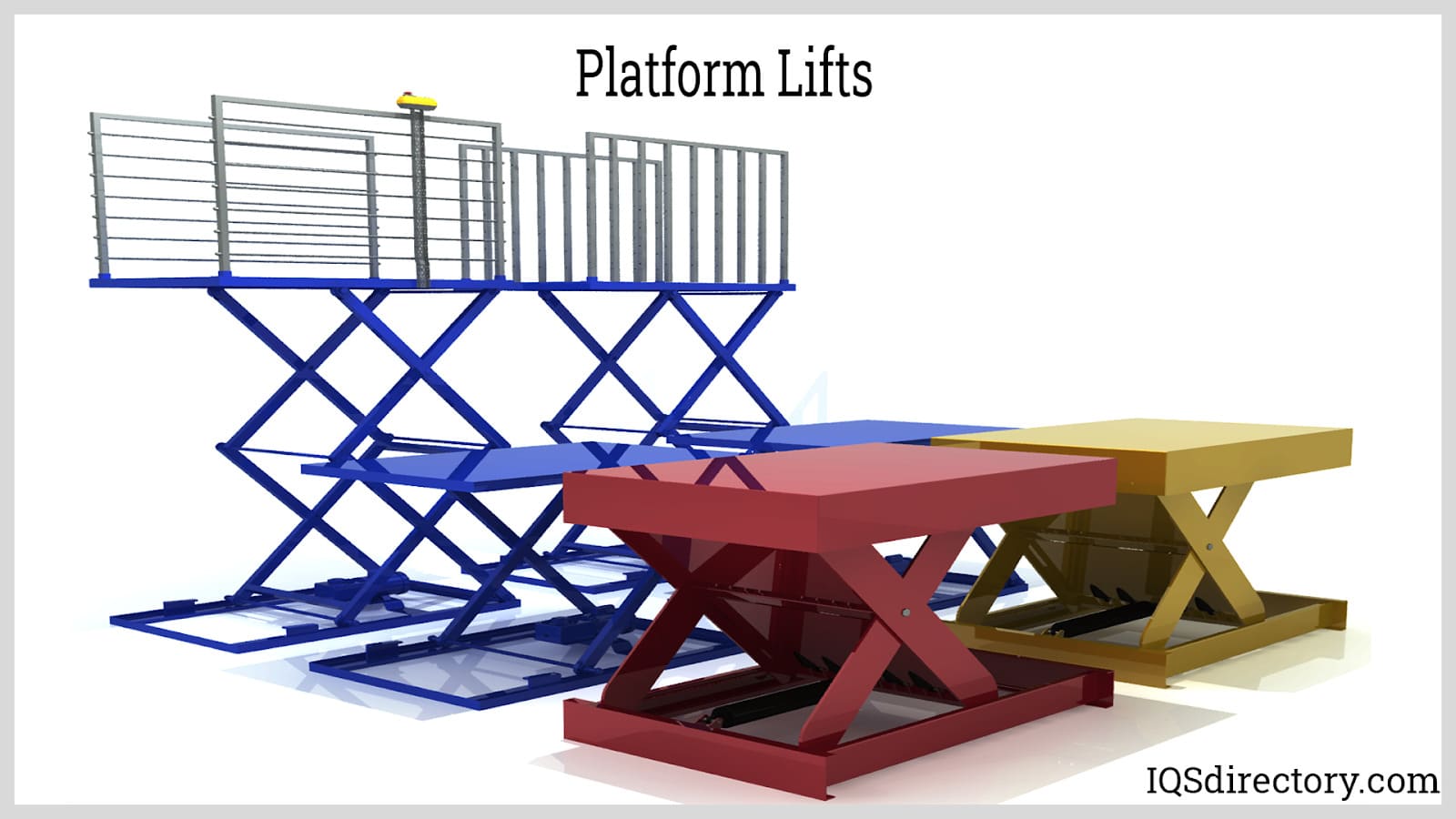 What are Platform Lifts?
The base is commonly a huge truck for easy transportation of the platform, and the arms extend up to the bucket. In addition, the platform can have a base-mounted panel from which the movement of the platform can be controlled.
Platform lifts are used for the transportation of packages at different heights. They are mostly used in operations that involve equipment and protection in high-altitude areas.
Types of Platform Lifts
The different types of platform lifts include:
Hydraulic Scissor Lift
This platform lift is used in multiple industries, including aerospace, entertainment, energy, manufacturing, and transportation. It is the most commonly used type of platform lift. The hydraulic scissor lift consists of a base at the bottom of the lift.
The base offers a stable foundation for the lift when it is being operated. It is typically powered by one to three hydraulic cylinders for vertical movement in the upward and downward directions.
A power source or motor provides the energy for this process. Hydraulic scissor lifts have a platform at the top connected to the legs of the scissor, and it carries the load on the unit.
The top platform of this lift always remains parallel to the ground when it rises from its resting position to the raised position. This, in turn, will ensure that the workers or equipment on the lift remain level and balanced during its movement between various heights. The hydraulic scissor lift's working principle relies on the hydraulic fluid's action and properties, which is utilized in the filling of the cylinders.
The Cylinder-Cylinder Aerial Work Platform
This platform lift is a multi-stage hydraulic cylinder that raises goods in an upright direction. It consists of high-strength material and has an outstanding mechanical performance of the hydraulic cylinder. It also consists of a tower-shaped guard frame that makes it more stable.
It provides superior stability even at very high altitudes. Therefore, it is mostly used in fields and industries where operations are performed at high altitudes. Examples of these are docks, stations, and public buildings.
The Guide Rail Elevator
This type of platform lift is similar to the hydraulic scissor lift, except it is a non-scissor lifting platform. It is utilized to transport goods between the second and third floors of restaurants and industrial plants.
For work sites where pits cannot be excavated, the suitable minimum height is 5.9 to 11.8 inches (150-300 mm). This type of equipment runs smoothly, and its operation is simple and reliable. The transmission of the goods by this platform lift is economical and convenient.
Self-Propelled Freight Elevator
This type of platform lift is an operation channel of high altitude. It relies on the battery for driving and can control walking and steering on the table. Of all the high-altitude operation equipment, it is the most advanced currently.
It is capable of walking at the highest height, and its operation is highly automated. It consists of a pothole protection system that provides maximum safety. It offers safe ground clearance, enabling the carrying-out of indoor operations. Finally, it is reliable, robust, and easy to repair.
Aluminum Alloy Single-Mast Elevator
This type of platform lift has a maximum height of 23 to 26 feet (7 to 8 m). The carrying capacity of this lift is 220 pounds (100 kg). This machine is lightweight, flexible, and suitable for operation by a single person. It is capable of entering a general specification doorway as well as the elevator of a building after condensation.
Applications and Benefits of Platform Lifts
The applications and benefits of platform lifts include:
Applications and Uses of Platform Lifts
Municipal repairs
Docks
Logistics goods transportation
Construction
Decoration
Providing movement in the vertical plane between floors
Benefits of Platform Lifts
They are cost-effective and durable
Hydraulic scissor lifts are lightweight and small, with the ability to raise heavy objects
They are economical and convenient
They are efficient and capable of carrying heavy loads while retaining their speed and safety
They do not use up a lot of energy
When it comes to the transportation of people, platform lifts are safer than staircases
Choosing the Right Platform Lift Manufacturer
To ensure you have the most positive outcome when purchasing a platform lift from a platform lift manufacturer, it is important to compare several companies using our directory of platform lift manufacturers. Each platform lift manufacturer has a business profile page highlighting their areas of experience and capabilities, along with a contact form to directly communicate with the manufacturer for more information or request a quote. Review each platform lift business website using our patented website previewer to quickly learn what each company specializes in. Then, use our simple RFQ form to contact multiple platform lift companies with the same form.
Platform Lifts Informational Video