A scissor lift is a device designed to move people and objects vertically. These lifts can handle any application that typically requires a ladder, tower, or scaffolding. The term scissor lift refers to the design of the lifting mechanism, which consists of a cross-shaped stack of tubes that operates like a scissor when raising and lowering the platform. The majority of scissor lifts are self-propelled machines. Read More…
Scissor Lift
Scissor lifts are tools that are used to raise and lower objects. Scissor lifts use linked, folded supports that, when extended, form diamond shapes.
As pressure is applied to the lowest set of supports, the remainder of the structure enlarges as it goes higher. When sliding downward, the other supports retract as the pressure on the lower supports is reduced. As a result, scissors lifts allow users to carry out the same tasks more quickly and safely without the need to set up additional equipment like scaffolding or a tower, as well as without the risky instability of a ladder.
Types of Scissor Lifts
Electric Scissor Lift
Aerial platform machines with electric scissor lifts are another common type. Electric scissor lifts have a silent, powered drive system as an alternative to burning fuel. As a result, electric scissor lifts offer a cleaner option for inside environments, which frequently lack enough ventilation because they don't produce noise or emissions. These machines are ideal for smaller settings because they are less substantial than diesel equivalents.
Hydraulic Scissor Lift
Hydraulic systems driven by an engine or operated manually power hydraulic scissor lifts. The hydraulic oil in the device's hydraulic system changes pressure to enable the scissor lift to move up or down as needed. Users don't need to undergo much training to utilize a hydraulic scissor lift, making it a straightforward solution when you need to lift something. Hydraulic scissor lifts are useful for usage in infrastructure projects, construction sites, and warehouses. The scissor lift users turn on the power supply. Workers can use small, portable hydraulic scissor lifts to transport cargo or heavy objects around a factory or workshop.>
Rough Terrain Scissor Lift
Additionally, rough terrain scissor lifts are made specifically for outdoor terrain. They include heavy-duty tires, a large weight capacity, and extra safety features like fall restraints and arrestors. They are, therefore, perfect for projects carried out in bad weather. These scissor lifts are additionally made to operate in adverse weather conditions and on slopes. Scissor lifts for rough terrain can reach heights of up to 50 feet (15.2 meters) and widths of up to 10 feet (3 meters). Diesel, gasoline, liquid propane, or multiple fuels power the equipment.
Diesel Scissor Lift
On building sites, diesel scissor lifts are among the most popular. Due to their peculiar cross-braced design, they can reach heights of up to 30 feet (9.1 meters), with some examples reaching 60 feet (27.4 meters). A diesel lift is noisy and releases fumes into the air because it is powered by conventional diesel fuel.
However, the wider platforms of the diesel scissor lifts make them ideal for outdoor construction projects, well-ventilated interior spaces, and locations where critical staff communication won't be hindered or distracted by engine noise. In addition, workers can use diesel scissor lifts for various tasks, including warehouse, retail, point of sale, and cleaning.
Pneumatic Scissor Lift
The lifting technique of pneumatic scissor lifts is reliant on airflow. This lift is more environmentally friendly than regular lifts since it doesn't release harmful byproducts or gasses into the environment, helping businesses reduce their carbon footprint. They are excellent for businesses that want to operate sustainably and with a smaller carbon impact because they raise and lower the lift using air pressure.
The atmosphere is compressed and vacuumed using a pneumatic scissor lift. They offer less power than rough terrain or diesel lift because they need fuel. However, the equipment can be used in nearly any setting, including interior facilities, as they only need air.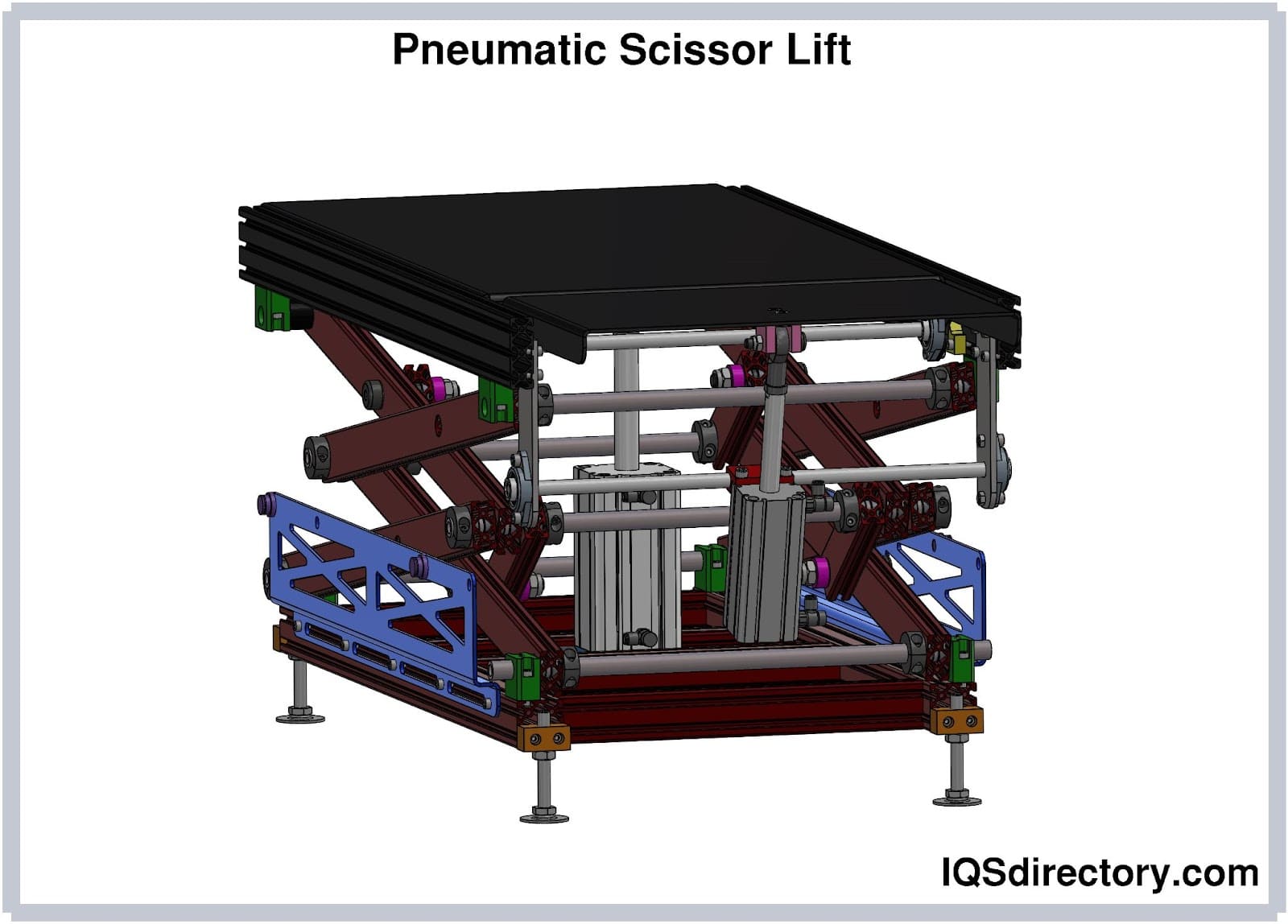 Applications of Scissor Lifts
Altering lights, hanging banners, laying bricks, pouring concrete, changing signs, and accessing utilities are just a few jobs that call for working high in the air since they enable employees to complete duties.
Securely, scissor lifts are a common option in building maintenance.
For dynamic construction projects that could have regularly changing conditions, scissor lifts offer a mobile, adaptable option.
Scissor lifts are best used for tasks that require vast heights and large loads that cannot be handled by hand, and they are frequently used at busy shipping hubs to distribute goods.
Manufacturing industries use scissor lifts. An aerial platform can increase operating efficiencies by swiftly and safely ascending to great heights and hauling huge cargo.
Storage businesses must effectively utilize all vertical and horizontal space. Scissor lifts can significantly enhance the success of such businesses.
Benefits of Scissor Lifts
Since some lifts may reach heights of up to 32 feet (9.8 meters), scissor lift technology allows workers to access areas that would otherwise be extremely difficult to reach. The smallest type of aerial work platform that one can find is a scissor lift. This is significant in confined locations, such as event venues or densely populated warehouses where stacked boxes restrict access at a height.
Scissor lifts are among the most portable lifting equipment, but other aerial work platforms need a lot of floor space. These lifts are simple to store because the total space needed is about equal to the platform size that one can raise.
Scissors are undoubtedly the most cost-effective and adaptable choice out of all options. With just one vertical lift, workers may service an entire warehouse. Additionally, hydraulic lifts use virtually no power, thus enhancing their efficiency.
Choosing the Proper Scissor Lift Manufacturer
To ensure you have the most productive outcome when purchasing a scissor lift from a scissor lift manufacturer, it is important to compare several companies using our directory of scissor lift manufacturers. Each scissor lift manufacturer has a business profile page highlighting their areas of experience and capabilities, along with a contact form to directly communicate with the manufacturer for more information or request a quote. Review each scissor lift business website using our proprietary website previewer to quickly learn what each company specializes in. Then, use our simple RFQ form to contact multiple scissor lift companies with the same form.
Scissor Lifts Informational Video